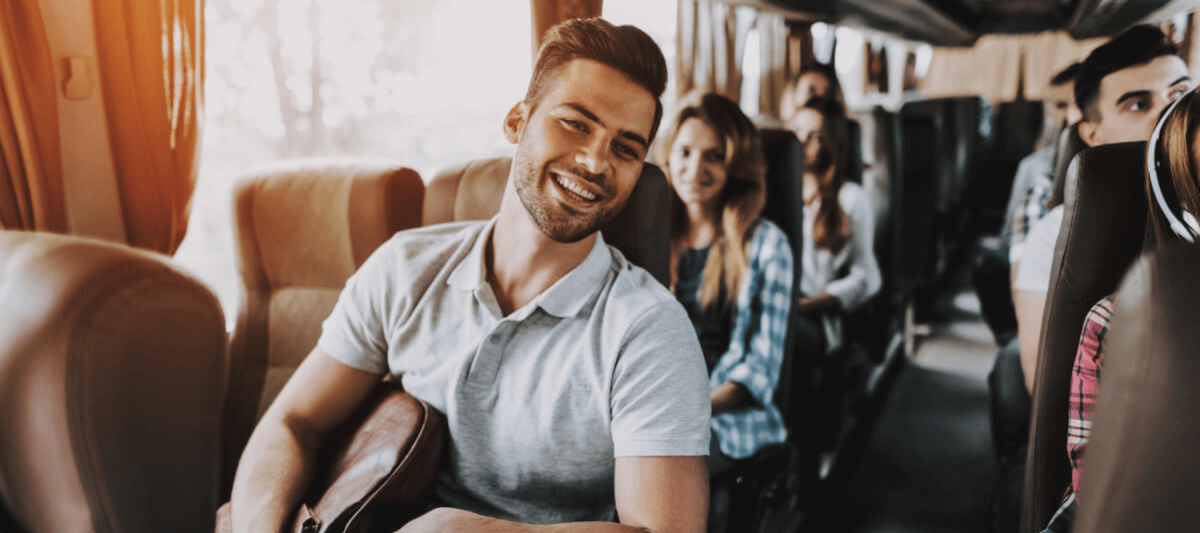 Charter transportation might be one of the best ways to get around, but did you know you can make it even better? Here are some of our favorite tips for making the most of your time on a charter bus!
Why Choose Charter Transportation?
You have a lot of options when it comes to travel. Why choose a charter bus to get you started on your next big adventure?
There are plenty of reasons, but most fans of charter transportation will tell you they fell in love with the simplicity. No parking, no dealing with traffic, no navigating unfamiliar roads--it's just you and a comfortable seat. Plus, if you have a big group to organize, you don't have to worry about keeping everyone together on the road.
Other charter bus enthusiasts point to the cost. Often, it's far more affordable to use charter transportation than to pay for gas and parking.
Finally, some people just love the adventure. If you're the kind of traveler who enjoys looking out the window on long car rides, you'll be right at home on a charter bus.
Enjoying Your Charter Bus Ride
Whether you've never been on a charter bus or are always using charter transportation, one thing's for sure: You can get even more out of your journey if you plan ahead. Here are some tips for long trips:
Pack wisely
It's important to identify essentials ahead of time. Here are a few things you should put in your carry-on so you can reach them during your journey:
Phone.
Wallet.
Laptop.
Headphones.
Neck pillow.
Medications.
Camera.
Hand sanitizer.
Sweatshirt.
Bring work
Some people can't work on the road, and others become efficiency aficionados. Either way, it's worth bringing a few tasks to keep you busy, even if you don't end up completing them until later. This helps you make the most of your time and get a jump on any responsibilities you might have once you reach your destination.
Have entertainment on hand
These days, just about everything is mobile--which means there are plenty of ways to keep yourself entertained on the go. Here are just a few ideas:
Download a new game on your phone before you go so you'll have something fresh to try.
Bring an audiobook so you can enjoy the sights and listen at the same time.
Keep a notebook or sketchpad handy to draw things you see along the way.
Create a road trip playlist and listen while you look out the window.
Grab an eBook or two for when the scenery gets boring.
Keep a journal
Have you ever kept a trip journal? Whether you're traveling alone or with a group, a journal is a fun way to keep track of your experiences. At the end of your trip, it also becomes a great souvenir you can use to remember everything you did.
However, you'll probably be busy once you get to your destination--so make the most of your time on the charter bus and start writing. Everyone in your party should record their thoughts on getting ready for the trip, getting on the bus, looking out the window, anticipating the adventure ahead, and more.
For best results, you should try to fill out more pages of the journal throughout your trip. If you don't manage to do that, though, you'll have plenty of time on the charter bus home to catch up on everything.
Play road trip games
Road trip games are likely most popular on family vacations, but that doesn't mean you can only enjoy them if you're traveling with kids. Here are a few fun ideas to try:
Keep track of all the out-of-state license plates you see.
Point out all the VW Bugs you spot (gentle smacks are optional).
Play "I Spy."
Think of something and get others to guess it in only 20 questions.
Tell two truths and a lie, then see who can guess which statement is the lie.
Conclusion
Charter transportation is the beginning of an amazing journey. However, depending on where that journey takes you, you could be in for a long trip--which is why it's smart to think ahead. The good news is that a charter bus is comfortable, safe, and fun, which means you have plenty of opportunities to enjoy yourself during the trip. Remember to take pictures!
Need a charter bus for your next big adventure? Contact us today to find out how!