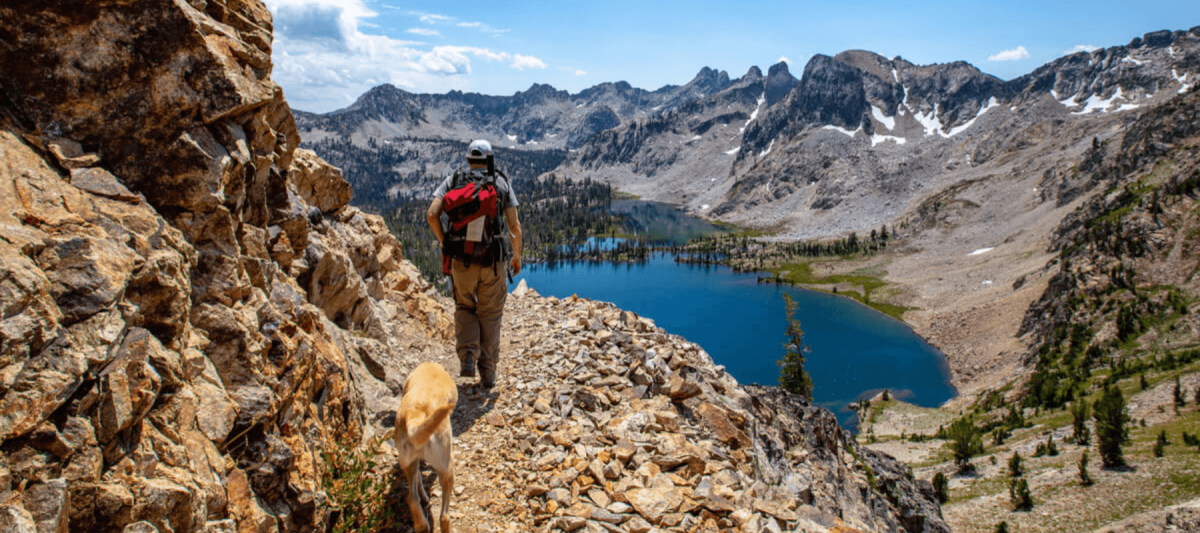 Are you ready to get outside? Idaho has 53.4 million—that's right, million—acres of public land, so there are tons of hiking trails for you to explore in this mountainous state. Whether you're looking for a lake picnic, a short family hike, or a great ridgeline view, there's a trail in Idaho to get you there.
Know Before You Go
Boise locals love starting from Stanley, Idaho. Surrounded by rivers and mountains, Stanley is your base for adventure—and you can spare yourself the driving and take a shuttle to get there and start your vacation worry-free.
Before you head out, always make sure you have the right equipment (sturdy shoes, food, water, off-line navigation, sunblock, etc.), and remember to follow the Leave-No-Trace principles of outdoor recreation.
Lake Destinations
Redfish Lake
A well-known spot in Stanley, there's even more to Redfish Lake than the lovely beach, cozy resort, and gorgeous lake. Hiking trail #101 leaves from just behind the resort and travels around the lake, so you can head out for as many miles as you please. The views across the water and toward the Sawtooths will provide a great lunch stop before you turn around. If anyone in your party is not up for a walk, there is a boat cruise on the lake to appreciate the scenery from the water as well.
Alpine Lake
A Sawtooth classic hike, Alpine Lake is not to be missed. At just over 3.5 miles each way, this hike is slightly strenuous but totally worth it for a great view, a good workout, and a nice day in the outdoors. Start at Iron Creek Campground, right outside Stanley.
Family-Friendly Trail
Fishhook Creek
Ready to take the kids out, but not sure how long they'll make it? Fishhook Creek is your best bet for a good day, no matter how far you go. The trail starts on the road into Redfish Lake. It's mostly flat, scenic, and fun, with no requirement to do the entire five-mile round trip hike, but you can enjoy the meadows and mountain scenery as long as you'd like.
Epic Ridge Hikes
Alpine Way Trail
A short (but steep!) connection from the Fishhook Creek trail will get you up on top of a ridge to follow the Alpine Way Trail as far as you want, either toward Iron Creek or back to the highway. This ridge run can be rugged, so be sure you're ready for a big day and pack appropriately. Then, take it as far as you'd like to go!
Bench Creek Trail
The Bench Creek Trail is a high elevation, alpine hike for the group's more adventurous. If you're ready to really get out there, this is your trail. Leaving from the Bench Creek Rest Area on Highway 21 about 20 minutes from Stanley, this trail ambles up the creek for a few miles before switch-backing up a steep slope to the pass. You can go up to five miles to reach Marten and Kelly Lakes, which are just over the pass.
Take the Shuttle to Stanley
To make your adventure in the Sawtooths stress-free, take Boise's shuttle to Stanley. Caldwell Transportation shuttles make your trip to Stanley simple, so you can relax and enjoy the mountain scenery on the way. Contact us to schedule today.