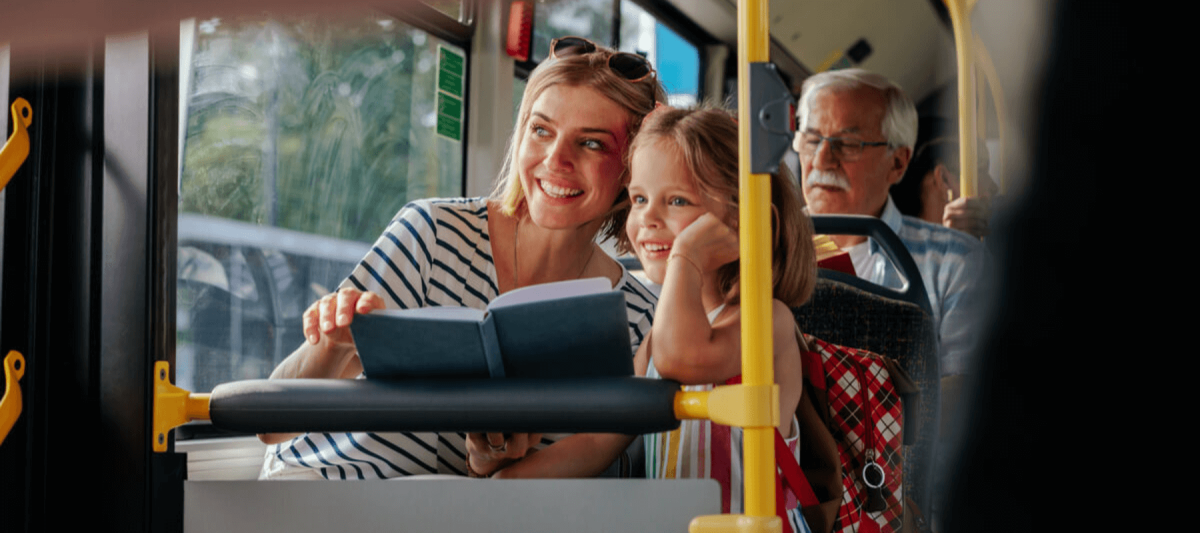 Road trips are a great experience for families. They're also the perfect chance to spend some quality time together--but if you don't have plans for how to keep kids entertained while on the road, that quality time can quickly turn into exhausting time. Luckily, there are plenty of ways to get your little ones excited about a trip on a charter bus. Here's what you need to know!
Benefits of Charter Transportation for Kids
To really understand the value of something, it's often best to look at it from a kid's perspective--and charter transportation is no exception. Shrug off your adult mindset for a few minutes and take a look at a charter bus through the eyes of a child:
There's Plenty of Room.
Road trips in the family car can be cramped, especially if you're crammed in the back seat with a couple of siblings and everybody's luggage. On a charter bus, those problems are a thing of the past. There's plenty of room to spread out--and, better yet, the seats are big and comfy.
Parents Don't Have to Drive.
When your parents are driving, they can't take their eyes off the road to look at this cool thing you just drew or that weird tree out the window. With charter transportation, parents aren't trapped behind the wheel--which means they can spend more time paying attention to you.
The Windows are Huge.
Say you're the kind of kid who likes looking out the window on long drives. You're going to love charter transportation. That's because the windows are so big that you can see just about everything, allowing you to really enjoy the adventure.
You Never Get Lost.
Even with everyone's phones open to various map apps and the family GPS doing its very best, a road trip can quickly lead to wrong turns and utter confusion. That's not the case on a charter bus. Instead, a professional driver studies the route way ahead of time to make sure they know how to get you where you're going as quickly and safely as possible.
Keeping Kids Entertained on a Charter Bus
So, now you know what charter transportation looks like through a kid's eyes--but it's time to shift back into grown-up mode. Here are a few ways to keep the little ones entertained on a charter bus:
Don't Forget the Electronics.
Handheld gaming devices, phones, MP3 players--these are all must-haves for road trips. Just make sure to pack the chargers so you don't end up with dead batteries only a few hours into your journey.
Help Kids Choose Their Favorite Books.
Not all kids love reading, but a road trip might be the perfect opportunity to change that. Help kids choose books about your destination--like stories about the ocean if you're headed to the beach--to get them excited for the adventure to come.
Keep a Road Trip Journal.
Charter transportation is a perfect opportunity to write in a road trip journal. Have kids record their thoughts about packing and getting on the charter bus, and encourage them to make note of fun things they see and do during the journey. Bring colored pens and pencils or stickers for a little extra fun.
If you keep writing in the journal throughout your trip, you'll have an incredible, one-of-a-kind souvenir to look back on when the kids are all grown up.
Pack Plenty of Snacks.
People of all ages are likely to get hungry on a long road trip. Make snacking fun by bringing a bunch of items, putting them in a big bag, and having kids reach inside with their eyes closed to get a surprise every time they're hungry.
Don't Underestimate the Power of a Good Nap.
A nap may not sound like the most fun thing you can do on a road trip, but it's a real-life-saver for kids and parents alike. Bring travel pillows and small blankets to help kids get comfortable--and if they're not convinced, remind them that a little nap now will help them have more fun once you arrive at your destination.
Charter transportation is a perfect choice for kids and grown-ups alike. That's not just because of the extra space, reliability, safety, or simplicity--it's because this kind of road trip brings families together for real quality time. You'll make memories that can last a lifetime--and with tips like these, those memories will be even better.
Are you ready to go on your next big family adventure? Contact us today to explore your charter bus options