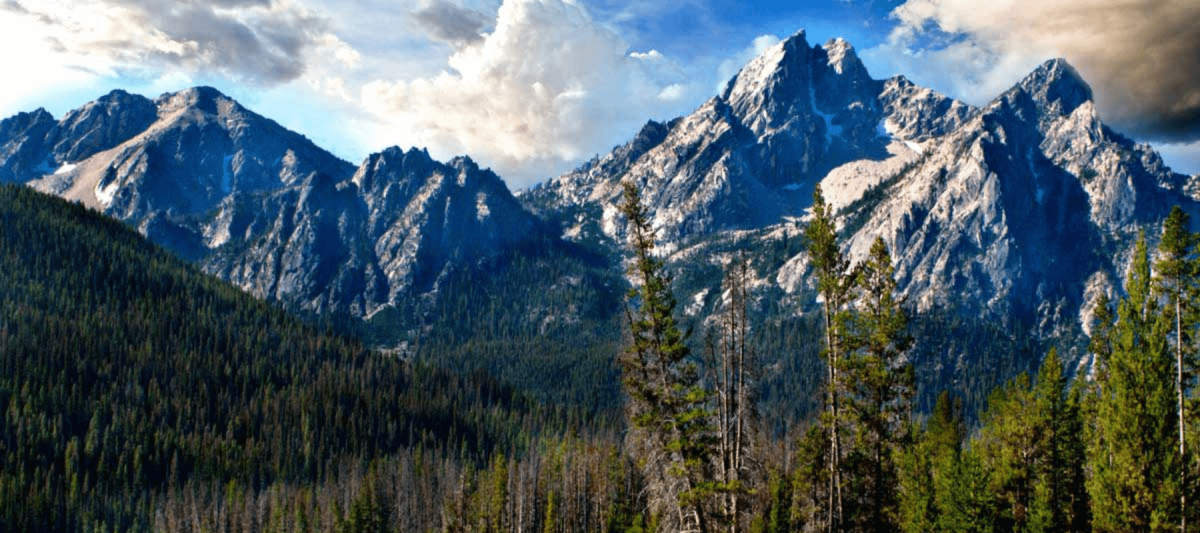 If you have never experienced the majesty of Stanley, Idaho, you're missing out on fun activities, outdoor adventures, and stunning views. The beauty that encompasses you is outstanding, between the Sawtooth Mountains, Redfish Lake, and the Salmon River. Plus, you are never left wondering, "What is there to do?"
Best Things to Do In Stanley
The natural habitat of Stanley is what makes activities there so special and fun. With mountain trails, gorgeous lakes, and scenic views all around, there's no shortage of outdoor activities to do. Here are some of the top options for your visit.
Head to Redfish Lake
Besides the uniquely icy water, the redfish and the fantastic camping there are so many activities to do while visiting Redfish. Outdoor enthusiasts adore this spot, and it's one of the most famous destinations for camping in the state. Make it a day trip or set up camp in a campground, or make a reservation for one of the beautiful cabins at the Redfish Lake Lodge.
The Lodge at Redfish offers bike rentals, boat rentals, lake shuttle, paddle boat rentals, bocce ball, and a great General Store, so you're always stocked up on your Redfish gear. The boating and cliff jumping are two of the favorite activities for people who come to Redfish Lake.
Go Horseback Riding
A family-owned horseback outfitting business, Mystic Saddle Ranch has been open since 1969. All-day rides, fishing trips, hunting excursions, multi-day pack trips, trail rides, wagon rides, and cookouts are some of the activities you can do while horseback riding through the wilderness.
Whether you want to take a day trip on the trails or book a pack trip or guided hunt, horseback riding in Stanley and the surrounding area is an adventure you won't soon forget.
Explore the Sawtooth Mountains
There are hundreds of miles of trails in the Sawtooths and White Cloud Wilderness areas. Several intriguing day hikes begin at various locations, including Redfish Lake Lodge. If hiking isn't your thing, you can take a scenic drive in any direction for some breathtaking views. Photographers love the Sawtooths -- there's no shortage of amazing photo ops at any time of day!
Pop Over to Historic Galena Summit
Get out of your car and enjoy the panoramic views of the Sawtooth Mountains at this beautiful overlook. This historic point looks out to the original road finished in 1881 to serve the mines located in Vienna and Sawtooth City near present-day Smiley Creek. You can still see some of the original roads today.
Drive to Sun Valley, Idaho
Located about 45 min from Stanley, ID it is well worth the drive. The rich culture, biking trails, succulent restaurants, alpine skiing, and blue skies the activities are truly limitless. If you're staying in the Stanley area, a day trip over to world-famous Sun Valley is a fantastic option. Visit the Sun Valley Lodge, experience excellent dining, or participate in any of the endless shopping and outdoor adventures the Sun Valley/Ketchum area offers.
Slow down in a ghost town
Ready to relax or possibly be a little spooked? Bonanza and Custer, two fascinating ghost towns, are great opportunities to slow down and take in the sights while enjoying a unique look at historical life.
Ride the Salmon River
Kayaking and rafting this whitewater experience is truly one of a kind. It is Idaho's longest undammed, free-flowing river contained in a single state in the lower 48. People come from all over the world the raft the Salmon! There are also a number of hot springs off the Salmon River and very close to Stanley.
Go stargazing
What makes Stanley, Idaho such an amazing place to go stargazing? Well, the truth is that it's actually part of the Central Idaho Dark Sky Reserve (CIDSR), which is exactly what it sounds like: 1,400 square miles of Idaho that has been designated as a "low-light" area to limit city light pollution and provide an incredible view of the night sky. The CIDSR is the only Dark Sky Reserve in the United States, making this a rare opportunity to see the stars as you've never seen them before.
To make the most of your stargazing trip, remember to turn off your all the lights--headlights, interior car lights, and cell phones can all interrupt the experience. If you're bringing an electric lamp, try to find one with red light--it allows you to see the night sky better than white light.
Contact us to set up a visit to Stanley, Idaho, and have the opportunity to experience one of America's hidden treasures.