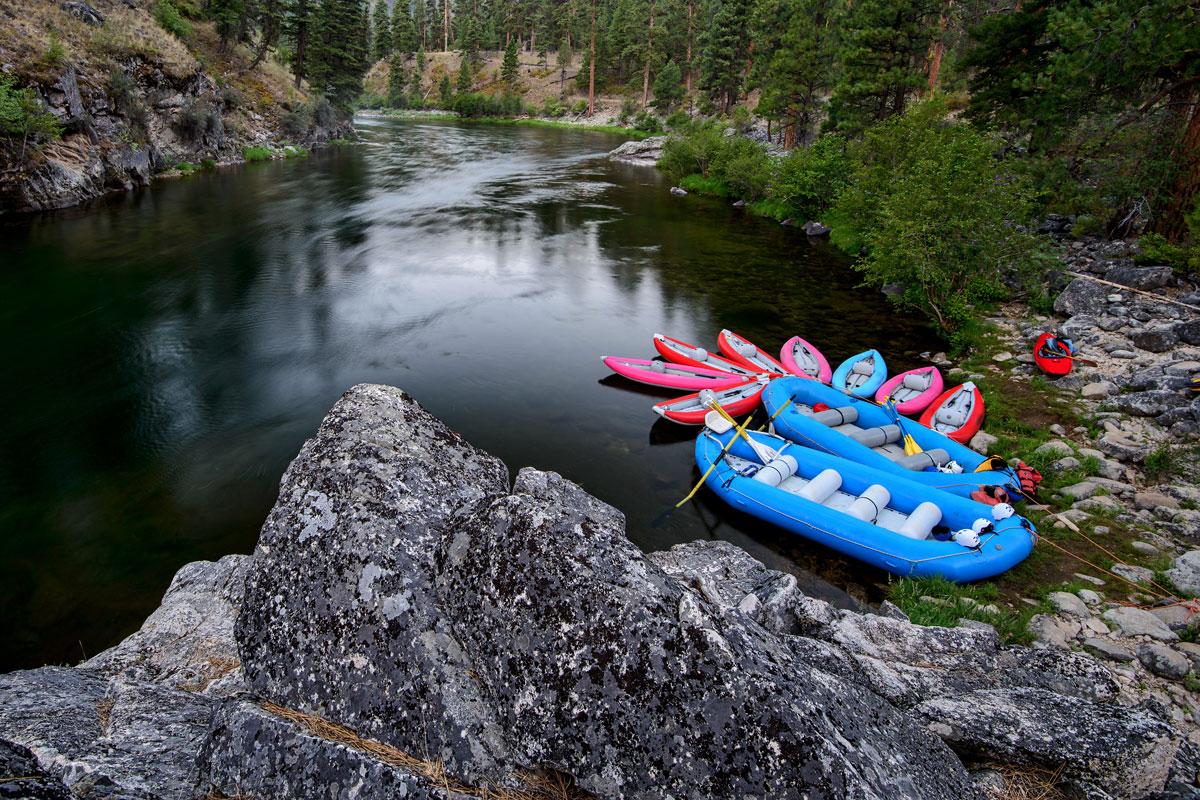 Idahoans would be happy to keep the beauty and magic of its rivers and lakes to itself, but that proves to be impossible. People from all over the world flock to Idaho to take part in its outdoor adventure. In summer the biggest draw is the multiple options to take part in a whitewater rafting trip. Not only are there many to choose from, but they extremely accessible.
9 Must-See White Water Destinations in Idaho
The Salmon River
The Salmon River has multiple put-in destinations. Many shuttle bus companies operate out of Boise and Stanley.
Lower Salmon River - This portion of the Salmon River is smack in the middle of the Frank Church Wilderness River of No Return. It is full of white beaches perfect for swimming during hot summer days.

Middle Fork of the Salmon River - If you're looking for thrills, this is the portion of the Salmon River for you. Plenty of rapids line this trip as descend 3,000 feet in elevation. You can consider yourself a pioneer as the Middle Fork is one birthplace of river rafting in the West.

Main Salmon River - To take in all of the Idaho scenery, float down the Main Salmon River. Beautiful beaches mixed with exciting rapids make this a great trip.
Central Idaho
Take a scenic road trip to reach these technical waters.
Selway River - For those seeking a technical challenge, you'll want to tackle the 100 miles of the Selway River. Only a small group of people can launch on this river during its short season as the focus is on solitude.

Lochsa River - If you want to mix a little fishing in with your rafting, the Lochsa River is an excellent choice. This is a trip for more experienced rafters.
Boise Area
All of these destinations are located 20 to 90 minutes outside of Boise.
Main Payette River - The Main Payette River is the perfect trip for families and first-time river rafters. The drops are easy with rapids ranging from Class II to Class III.

South Fork of the Payette River- Staircase - One of the most popular trips in Idaho, the South Fork has Class III-IV rapids. This is an accessible trip for those wanting an adrenaline rush.

Kelly's Whitewater Park - Located in Cascade, Idaho, this is a renowned whitewater park.

Boise River Park - A man-made 20-foot wide primary wave shapes this water park in downtown Boise, Idaho. Located on the greenbelt, SUP surfers and kayakers jump in the fun once the weather permits.
The most attractive aspect of all these destinations is the ability to hire a shuttle bus for transportation. This is a great way to bus large groups and can even be scheduled from the airport.